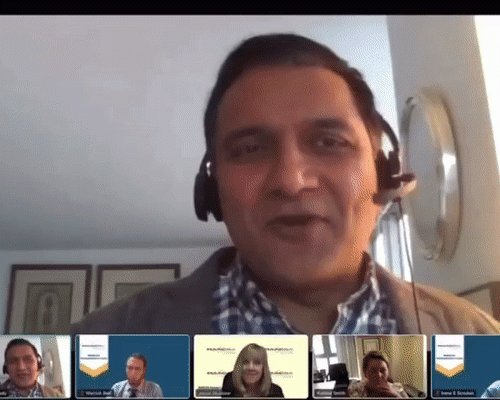 MACBAA (Mid-Atlantic Association of Colleges of Business Administration) is an international and independent institution with a mission to support and promote academic business education within the jurisdiction of the Middle States Association of Colleges and Schools. With a mission to make education accessible and the recruitment process convenient, birds of a feather flock together as WooStudy joined hands with MAACBA. Every year MACBAA virtual business conference provides an engaging platform for various institutions and service providers. This year, Mr. Arif Khan at WooStudy's virtual booth presented how WooStudy analyses the latest Ed-Tech trends and successfully converts the hectic academic procedures into a seamless process within just a few clicks.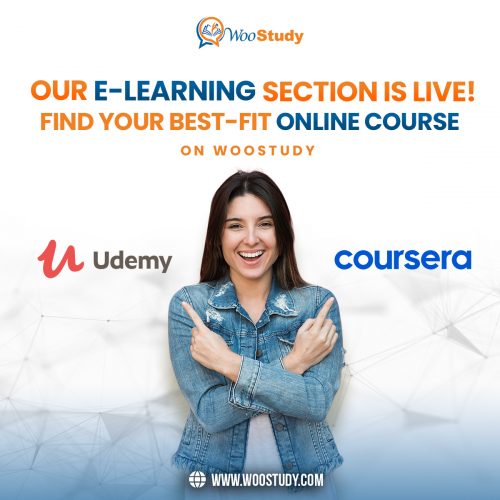 With 1000+ students, WooStudy provides the best and feasible marketplace for educational institutions to launch their online courses on our E-learning platform. WooStudy team has created a Big data and AI online community that can connect the right-fit students and academics around the globe. With thousands of up-to-date online courses, our e-learning section is a perfect learning platform for students who want to acquire new skills or polish the existing ones. Currently, WooStudy proffers the most in-demand Udemy and Coursera online courses with acclaimed certifications.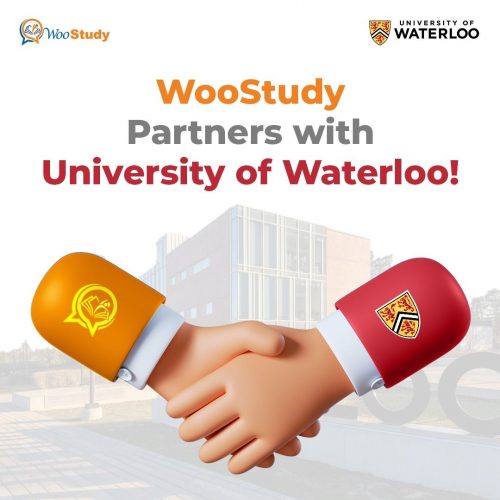 Established in 1957, The University of Waterloo is the #1 Canadian University that proffers experiential learning and employer-student connections for more than 42,000 students each year. The University of Waterloo joined hands with WooStudy, the first AI-powered, and fast-growing platform. Every year the University of Waterloo proffers work-integrated learning opportunities with 7,100+ active co-op employers. With a global network of more than 220,000 alumni in 151 countries, the university fosters an entrepreneurial spirit to improve the Canadian job market. The digital partnership of WooStudy and the University of Waterloo has opened doors of opportunities for both academics and students to connect with top universities as per their requirements globally.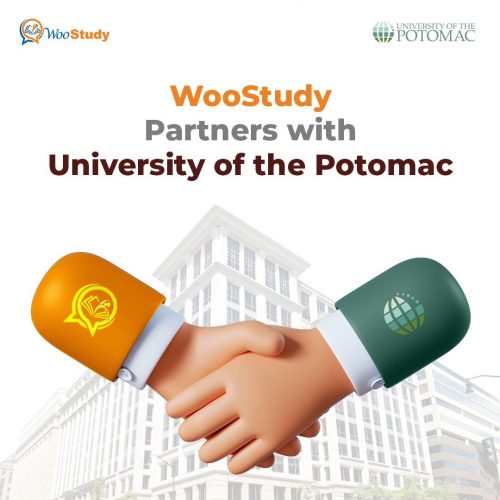 With three campuses in popular U.S. cities such as Washington, Virginia, and Chicago, the University of the Potomac partnered with WooStudy, an exceptionally prolific and fast-growing platform. The University of Potomac provides educational opportunities at the undergraduate and graduate level leading to career enhancement for its multicultural learners by offering affordable and accessible education in career-oriented disciplines. Now, national and international students registered with WooStudy can get matched with their perfect UOTP program or directly talk to the UOTP team to streamline their admission process.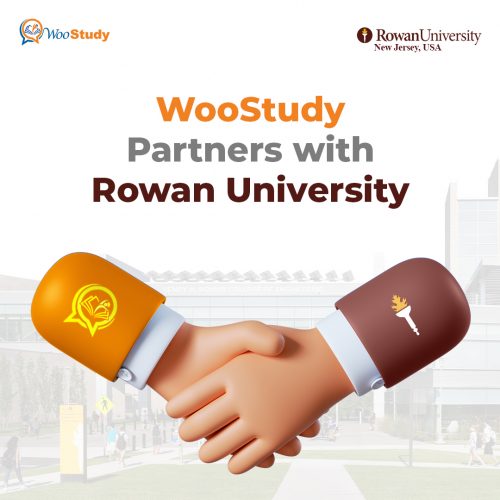 Since its founding in 1923, Rowan University has evolved from a teacher preparation college to a bustling regional university, ranked among the best public universities in the North by U.S. News and World Report. With more than 18,000 students, Rowan University is one of the 56 institutions in the U.S with accredited programs in business, education, engineering, and medicine. It provides bachelor's and master's degrees in more than 74 disciplines and various professional programs. WooStudy, the world's first AI-backed platform, is proud to associate with Rowan University. Now international and national aspiring students can get matched with their perfect Rowan program via WooStudy. Students can communicate about any query with the Rowan team directly through the WooStudy platform.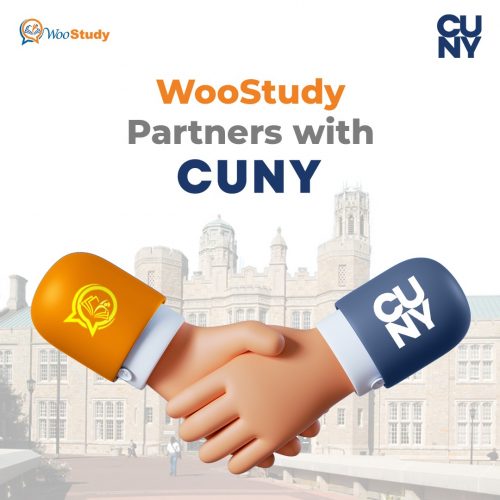 Founded in 1847 as the nation's first free public institution of higher education, today CUNY has 25+ colleges spread across New York City's five boroughs, serving 275,000 degree-seeking students of all ages and awarding 55,000 degrees each year. WooStudy is now a proud partner of the City University of New York is renowned for its affordability, high-quality instruction, and research. Aspiring students can get instantly matched with their perfect CUNY program via WooStudy. Students can communicate directly to the CUNY team to streamline their admission process. WooStudy has partnered with 25+ domestic and international universities. These well-known academic institutions proffer a wide variety of degree courses and online certifications. With WooStudy, both academics and aspirants can get connected directly to their perfect match.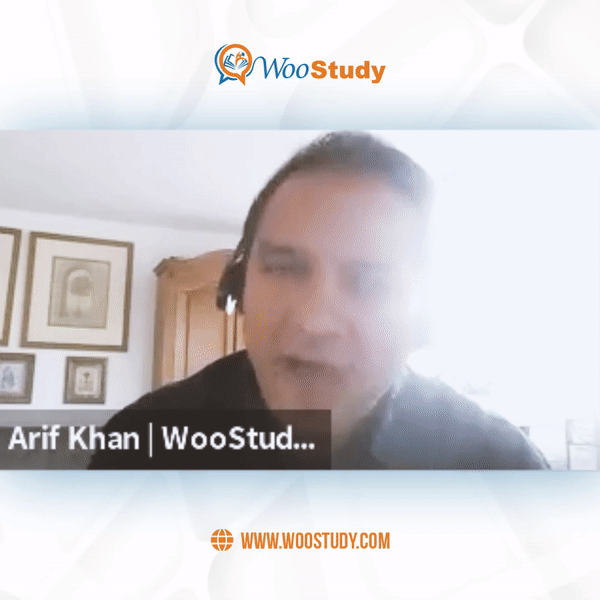 Startup Bucks is an innovative organization formed by and for entrepreneurs that assist existing and new startups in and beyond Bucks County. Startup Bucks supports new ventures on their road to economic and cultural growth. This year, CEO WooStudy, Arif Khan, successfully presented the vision and mission behind WooStudy. He highlighted some outstanding ideas that can entirely transform the recruitment process for educational institutions globally. Some fundamental points of his presentation were: • Plans for the academic institutions' acquisition. • How WooStudy supports the scalability of global colleges and universities. • And WooStudy proffers numerous converting connections to international and national educational institutions.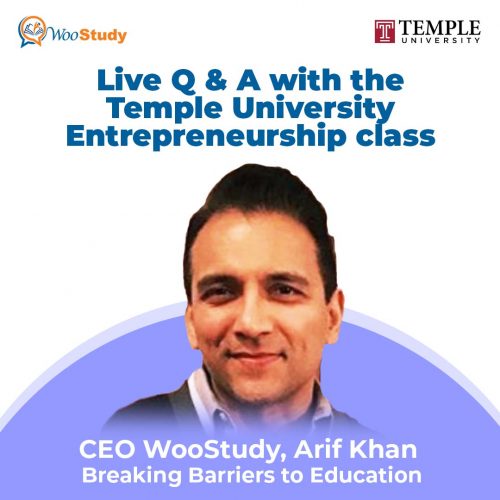 One of the oldest institutions founded in 1884 by Russell Conwell as a night school, Temple University has emerged as a top-tier research university and an international powerhouse in higher academics in the USA. Temple University caters to more than 40,000 undergraduates, graduates, and professional students with the mission statement of opportunity, engagement, and discovery. This September, CEO WooStudy, Mr. Arif Khan, participated in a Live Q and A session with theTemple University Entrepreneurship class. In this interactive session, he explained the mission and vision behind WooStudy, and how he incorporated his idea of AI and Big data in recruitment processes. He also highlighted the advantage of technological advancement in admission processes for both institutions and students globally.